Wendy Greuel
Wendy Greuel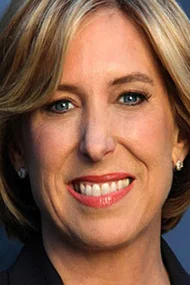 A working mom and lifelong Angeleno, Wendy attended LA public schools and graduated from UCLA. Wendy started her career in public service working for her mentor, former Mayor Tom Bradley, where for ten years she worked on a wide range of public policy issues including child care, senior care homelessness, housing, public health and education.
While in Mayor Bradley's office, Wendy was a leader in the creation of LA's BEST, a nationally recognized after school program that provides a safe and supervised environment for children after school, and helped found the city's first childcare center.
Wendy's commitment to affordable housing led her to Washington D.C., where she served in President Clinton's administration as the Deputy Director of the Interagency Council on Homelessness and later as the Southern California Regional Director at the Department of Housing and Urban Development.
In 1997, Wendy transitioned into the private sector, working for five years in the film industry as an executive at DreamWorks SKG. She provided strategic guidance in their civic and philanthropic efforts in the Los Angeles Region.
In 2002, Wendy was elected to the Los Angeles City Council and quickly developed an impressive record of accomplishment by creating jobs, preserving open space and reducing traffic congestion.
In 2009, Wendy was elected City Controller, becoming only the second woman in LA's history elected to citywide office. As Controller, she brought a laser focus to examining government finances ensuring our taxpayer dollars were spent efficiently and she brought greater transparency to government.
In 2013, Wendy was engaged by the Orange County Discovery Science Center to help open their new facility, Discovery Cube LA, in the San Fernando Valley. She is providing strategic advice on Board development, fundraising and civic engagement for Discovery Cube L.A.
In addition, in 2016, Wendy was appointed as an Executive in Residence and Strategic Advisor at the California State University Northridge Nazarian College of Business and Economics.
She currently serves on the LAHSA Commission working on homeless issues, as Co-Chair of the LAUSD Task Force, as a member of the Women And Girls Initiative Governing Council, and on the boards of Emily's List, , Emerge CA, East Valley YMCA, Oakwood School, Discovery Cube L.A., Planned Parenthood Advocacy Project, CAUSE, ABODE, Homeland Security Advisory Council, UCLA Luskin Advisory Board and on the L.A. Kings Business Advisory Board.
Wendy and her husband Dean are also the proud parents of their son, Thomas.