Sarah Dusseault
Sarah Dusseault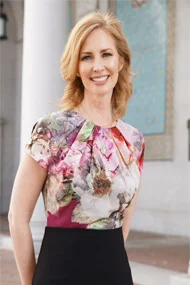 Sarah Dusseault is a policy-maker and advocate whose innovative approach to addressing local issues has helped shape the Los Angeles region over the last two decades.
Sarah serves on the Los Angeles Homeless Services Authority (LAHSA) Commission, the joint city-county agency that coordinates housing and services for homeless individuals and families in Los Angeles County. As Commission Chair from 2019 to 2020, Sarah helped lead COVID-relief efforts such as the implementation of Project Roomkey, providing emergency housing to more than 8,000 individuals in Los Angeles County. She is committed to policy-making that addresses issues unique to women experiencing homelessness and to bold investment in crisis response to homelessness. Her passionate advocacy and pragmatic approach to this issue is guided by her personal experiences with her brother, who suffers from schizophrenia and is often homeless.
Sarah has served as chief policy advisor to numerous elected officials and candidates, including Los Angeles Mayor Jim Hahn for whom she served as Deputy Mayor for Housing and Homelessness. In this role, she led efforts to revitalize Downtown L.A. and oversaw the creation of city's affordable housing trust fund — the largest of its kind in America at that time. Sarah also served as Senior Policy Advisor to Mayor Eric Garcetti during his 2013 mayoral campaign, and during his tenure as President of the City Council. She was most recently Chief of Staff to L.A. City Councilmember David Ryu, the city's first-ever Korean American councilmember.
Sarah is a Steering Committee member of The Committee for Greater LA, a collaboration of philanthropic, non-profit, business, labor and other organizations addressing the region's response to the COVID-19 crisis. Working with researchers from UCLA and USC, the group issued No Going Back, a roadmap for addressing economic, pandemic and racial justice issues currently facing our community. She also serves as an Advisory Board Member for the Los Angeles Business Council and a Board Member of the Los Angeles LGBT Center.
Sarah holds a B.A. in Political Science from Yale College and a J.D. from UCLA. She is an avid supporter of the arts. She is married to Chris Dusseault, a key member of the legal team in Hollingsworth v. Perry, the case that successfully challenged and overturned California's Proposition 8 before the U.S. Supreme Court. They have two sons.